Jetclean® Plus Dishwasher with the Steam Sanitize option
Ratings
Clean dishes start with better built parts. And with a motor that's tested to twice the average dishwasher life expectancy, this is an ENERGY STAR® qualified dishwasher you can count on. The Jetclean® Plus wash system removes tough food particles and a 4-blade stainless steel chopper pulverizes food. The Steam Sanitize option feature eliminates 99.999 percent of food soil bacteria, giving you confidence that your dishes are clean. Loading big dishes is simple because the tiered upper rack makes room in both racks for tall items. And not only does this hard-working dishwasher get dishes clean, the redesigned 2.5-inch flush console offers a sleek look.
Below are only the articles for your model.
Search within results: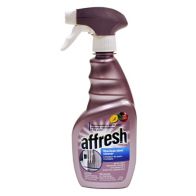 Part # W10355016
Affresh™ stainless steel cleaner leaves a streak-free and polished shine. It gently cleans fingerprints, smudges and residue. Use stainless steel cleaner on refrigerators, dishwashers, ranges, and microwaves.
MSRP: $6.99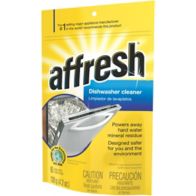 Part # W10282479
The NEW Affresh™ dishwasher and disposal cleaner is the powerful, ground-breaking solution for unwanted dishwasher and disposal odor. These innovative tablets help prevent odor in the dishwasher AND disposal. Developed with the consumer in mind, these cleaner tablets help remove even the most stubborn odors from dishwashers and disposals. Use once a month or as needed for a cleaner fresher dishwasher and disposer. Affresh cleaner keeps the dishwasher and disposal fresh for up to a month by penetrating, dissolving and removing odor. It's a fast and simple way to keep the inside of these appliances clean and smelling fresh. Pouch contains 6 tablets. For Dishwasher use: Step 1: With all dishware removed from dishwasher, place one tablet in the main detergent tray. Close the tray. Step 2: Place 2nd tablet in the prewash tray or in the bottom of the dishwasher. Close the dishwasher and run on most aggressive cycle. For Disposal use: Place a tablet in the disposal. Turn on hot water to a slow flow. Run the disposal and water for 15 seconds. Turn off disposal and water. Wait 30 minutes then flush the disposal with hot water.
MSRP: $5.99
Designed, Engineered and Assembled in the USA
From Ohio to you, every Maytag® dishwasher is designed, engineered and assembled in the U.S.A.
Steam Sanitize Option
The Steam Sanitize option lets you confidently wash important items with a high-temperature rinse that reduces 99.999% of food soil bacteria.
JetClean® Plus Wash System
Uses high-pressure spray jets to remove tough food particles. A stainless steel chopper blade pulverizes food, preventing particles from plugging the wash system and spray jets. The filtration system captures tiny food particles to prevent redistribution during the cycle for optimal cleaning without the need to prerinse.
Premium Dark Duraguard® Nylon Racks
These heavy-duty racks protect dishes from scratches and damage while also resisting rust.
ENERGY STAR® Qualified
ENERGY STAR® qualified dishwashers use less water and energy than standard models helping to save money on utility bills.
Oversize Capacity Plus Tall Tub
The oversized tub provides enough capacity to clean tall and large items like cookie sheets, pitchers and mixing bowls.
Configuration and Overview
Water Filtration System
Maintenance Free Hard Food Disposer
Upper Adjustable Rack
Removable
Energy Star® Qualified
ENERGY STAR® Qualified
Controls
Upper Rack Extras
2-Light Item Clips
Silverware Basket Type
Full Length Non Splitable
Cycle and Options
Cycle Selections
Heavy, Light/China, Normal, Quick Wash, Rinse Only
Option Selections
2-4-8 Hour Delay, Control Lock, Heated Dry, Hi Temp Wash, Steam Sanitize
Dimensions
Depth With Door Open 90 Degree
49 1/2
Product Dimensions
Dimensions are for planning purposes only.
For complete information, visit owner center.