Maytag® Ice2O® 4-Door French Door Refrigerator with LCD Display
Ratings
Finally, a refrigerator that handles snack attacks. This 25 cu. ft. Ice2O® refrigerator features the Easy Access refrigerator drawer with flexible storage for up to five bags of groceries. Using the refrigerator drawer saves energy by keeping 80% of the refrigerator closed while frequently used items are accessed, perfect for after-school or midnight cravings. The interactive LCD touch screen puts nutrition information at your fingertips and a flush ice and water dispenser provides a sleek appearance. Designed with long-lasting components including refrigerator drawer glides 2X Life tested to 600,000 openings and closings, this refrigerator delivers both performance and durability, and is backed by a 10-year limited parts warranty1.
Below are only the articles for your model.
Search within results:
Part # IC13B
Ice Maker Kit for Bottom Mount Domestic
MSRP: $129.00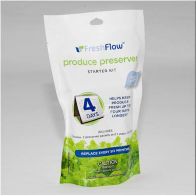 Part # P1FB6S1
Fruits & Vegetables naturally give off ethylene gas as they ripen. As they absorb the gas, it makes them over-ripen more quickly. ProducePreserver absorbs the ethylene instead, so your produce stays fresher up to 4 days longer! These fruits and vegetables produce high amounts of ethylene and should be stored away from other items Apples, Nectarinines, Apricots, Papayas, Avocados, Passion Fruit, Cantaloupe, Peaches, Cherimoyas, and Pears. These fruits and vegetables are sensitive to ethylene and should be kept away from ethylene-producing foods Unripe Bananas, Leeks, Green Beans, Lettuce, Broccoli, Mango, Brussels Sprouts, Parsley, Cabbage, Peas, Cauliflower, Spinach, Chard, Watermelon and Cucumbers.
MSRP: $12.99
Easy Access Refrigerator Drawer
Better Built to Hold the Cold
Flush Exterior Ice and Water Dispenser with Rotating Faucet
This exterior dispenser fits flush with the refrigerator door for a sleek look, while the easy-to-use controls allow for ice and water dispensing without opening the door. Also, this dispenser offers both cubed and crushed ice.
Color LCD Touch Screen
The color LCD screen mixes style with function, bringing advanced technology to the kitchen. And with easy-to-use controls, dispensing ice and water is quick and simple.
LED Interior Lighting
Beyond producing a brightly lit interior to help you easily view all of your fresh food, the LED interior lighting also uses less energy and produces less heat than incandescent lighting.
Glass floor in main compartment
Configuration and Overview
Refrigerator Type
French Door
ADA Compliant
ADA Height and Side Reach Compliant
Dimensions
Depth Excluding Handles
32 7/8
Depth with Door Open 90 Degrees
48
Height to Top of Cabinet
68 5/8
Width of Cabinet Only
35 5/8
Filtration and Dispensing
Dispenser Type
Exterior Ice and Water
Refrigerator Features
Number of Interior Shelves
5
Spill-Proof Glass Shelves
1 Adjustable Partial-Width, 1 Fixed Full-Width, 3 Adjustable Half-Width
Temperature-Controlled Drawers
1 Full-Width
Humidity-Controlled Drawers
No
Non Climate-Control Drawers
1 Half-Width
Door Bins
1 Full-Width Gallon, 2 Fixed Partial-Width, 3 Fixed Full-Width
Freezer Features
Lower Freezer Drawer
Full-Width
Slide-Out Freezer Basket
Plastic
Product Dimensions
Dimensions are for planning purposes only.
For complete information, visit owner center.