How to Help Prevent Wrinkled Clothes with Maytag® Wrinkle Control Settings
Learn how to help prevent wrinkles in clothes with settings on your washer or dryer, along with other helpful tips for keeping your clothes looking their best right from the machine.
WRINKLE PREVENTION TECHNOLOGY
Wrinkle Control is a cycle on select Maytag® washers and dryers that helps prevent wrinkles from forming throughout the laundry process. Select this cycle—along with other wrinkle-preventing options—and you'll see a reduction in wrinkles when laundry day is done. Learn how this cycle can help reduce or help prevent wrinkles in your laundry at the touch of a button.
What is Wrinkle Control in Washing Machines?
It may be common to think of preventing wrinkles during the drying process, but the washing machine is where it can all start. The Wrinkle Control cycle on Maytag® washing machine is specially designed to help prevent wrinkles with warm water and low spin speeds. Reduced water temperatures help keep fabrics from relaxing and creasing more easily during spins. Lower speeds help prevent clothes from tangling and reduce the force with which they are pressed against the basket walls—helping to prevent wrinkles from forming.
When to Use Wrinkle Control
Select the Wrinkle Control cycle when you're washing professional clothes such as button-up shirts, blouses, trousers, pants, and dresses. Although the Wrinkle Control cycle is not the same as permanent press, a good rule of thumb is to consider Wrinkle Control if you see the permanent press symbol on an item's care label. How the Wrinkle Control cycle operates in your machine will depend on the style washer you have.
Top load washers use a cool wash-water temperature along with a slower final spin speed.
Front load washers use a gentler tumbling action throughout the wash cycle along with a slower final spin speed. Cold water is used for all rinses.
Maytag Washing Machine Models with Wrinkle Control
If you're looking for a new washing machine to help manage wrinkles right from the start, Wrinkle Control is widely available on a range of Maytag models. You'll find the Wrinkle Control cycle alongside other powerful features on top-load or front-load washing machines, and impeller or agitator designs so you can get wrinkle-fighting power in a washing machine that's right for you. Boost stain-fighting performance in addition to banishing wrinkles with these models featuring the Extra Power Button:
Maytag Wrinkle Prevention in Dryers
Many Maytag® dryers also feature a Wrinkle Control cycle that helps reduce wrinkles by using lower temperatures during the drying process. The Wrinkle Control cycle defaults to adding the Wrinkle Prevent option at the end of the drying cycle. However, Wrinkle Prevent can also be manually selected with any drying cycle.
The Wrinkle Prevent option periodically tumbles, rearranges, and fluffs the dried load to help keep wrinkles from forming after the drying cycle is complete. Some models include Wrinkle Prevent with Steam for extra help keeping wrinkles at bay. Wrinkle Prevent can run up to 150 minutes, depending on the model.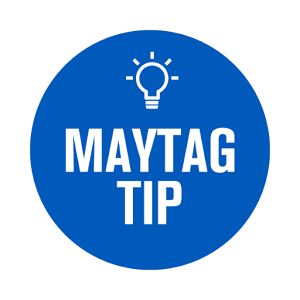 MAYTAG TIP: Read your clothing label before choosing a steam cycle.
If the care instructions caution against ironing with steam, then choose a no-steam wrinkle prevention setting.
Maytag Dryer Models with Wrinkle Prevention Settings
Wrinkle preventing technology on Maytag® dryers includes the Wrinkle Control cycle and the Wrinkle Prevent option. These features can work together or separately to help reduce wrinkles in laundry so your clothes come out smooth and ready to wear. Choose from options that include steam-enhanced cycles for extra wrinkle-fighting power, or dryers with smart features to get laundry done on your schedule:
6 Quick Tips to Help Prevent Wrinkled Laundry
Using the Wrinkle Control settings on your Maytag® washer and dryer will help reduce wrinkles on laundry day. Here are some other tips and tricks to help get your clothes as wrinkle-free as possible.
Evenly load your washer. A balanced load tends to tangle less.
Do not overload your washer. Too many items can create excess wrinkles in the clothes.
Shake each item as you transfer it from the washer to the dryer. Rather than grabbing a large group of items and tossing them directly into the dryer, try removing items from the washer one at a time and giving each a shake before putting it in the dryer.
Remove laundry from the washer promptly. The faster you can get clothes into the dryer after the wash cycle finishes, the less chance there will be for wrinkles to set into your clothes.
Remove clothes from the dryer promptly. When the dryer stops, be there to get your clothes out right away. Hang up shirts and other items that use hangers immediately as they come out of the dryer.
Keep your dryer lint trap, vent, and ducts clean and clear. A full lint trap reduces the efficiency of your dryer and can lead to more wrinkles in your clothes. The same goes for dirty or clogged dryer vents or ducts. Empty your dryer's lint trap after every load and schedule a DIY or professional dryer vent cleaning annually.
Learn more about how to prevent wrinkles on clothes
Was this article helpful? Pass it on
Questions?
Contact us for support to find the answers you're looking for.
Call customer service
1-800-344-1274
(Monday - Friday, 8 AM - 8 PM ET or Saturday, 8 AM - 4:30 PM ET)
Additional Customer Support
Maytag Services
Select your delivery and installation services at checkout. We will show you which services are available for your appliances and your location.
Contactless delivery is also available. Learn more about delivery and installation.
Professional in-home delivery
We deliver products big and small with our authorized delivery team or other standard shipping methods. 
Professional install
Our installation service is available for most major appliances, depending on your location. Add it during checkout and we'll install your appliance at the time of delivery.
Uninstall & haul away
Our uninstall and haul away services are available for most major appliances, depending on your location. Add them during checkout, and we'll uninstall, haul away and, where possible, recycle the appliance you are replacing.